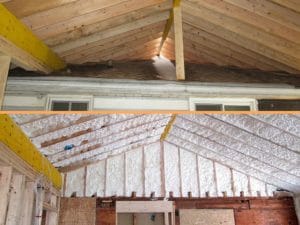 This Horsham spray foam insulation project was a particularly significant one for AGL Spray Foam. It was requested by one of our contractors!
As he was building a new addition to his home, the contractor knew that the best combination for long-term comfort was to use spray foam insulation in the walls and ceiling, combined with radiant floor heating.
Paired together, these two elements will create a tight, comfortable, energy-efficient area, even in this brand new 2,000 sq ft addition!
Contractors are choosing spray foam insulation for their homes, and you should to! Click here to schedule your comprehensive home assessment with AGL Spray Foam today.
Horsham Spray Foam Insulation Photos