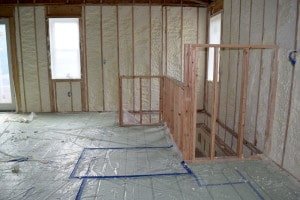 Radiant heat and spray foam insulation: what a combo!
A contractor in Eagleville wanted to build an 1800 sq. ft. addition to his home, and thanks to his expertise, the contractor knew how important it was to properly heat his new addition.
He also knew that even the most efficient heating system was no match for a well-insulated space!
That's where AGL Spray Foam came into the picture.
While the homeowner had installed a radiant heating system in the floors of the addition, our team coated the walls and roofline with spray foam insulation.
The combination of spray foam and radiant heat will ensure that this new addition will always be dry, tight, and comfortable, with a low utility bill to match!
Using spray foam insulation with highly efficient heating or cooling systems provides the maximum in long-term savings and comfort.
Contact AGL Spray Foam for a custom quote on spray foam insulation today!
Eagleville Home Addition Insulation Photos